Page 2 of 2 •

1, 2

Name: Stephan Stevens
Age: 19
Gender: Male
Race: First Stage Reaper Childern
Occupation: Thief
Alias: The Howl
Backstory:
Appearance:
Appearance:
Device:
Primary Ability:
Secret Ability:
Reaper Ability:
Personality:
Extra:



Posts

: 555


Join date

: 2015-10-02


Age

: 19

Character sheet


HP

:


(775/775)



Name: Ekita Karawa
Age: 16
Gender: Male
Race: Reaper Child
Occupation: Homeless
Alias: Crow
Backstory: kekeke... me?.. My backstory?.. Oh.. Well, It's very interesting.. I was kicked out when my parents saw i had powers, and i've been homeless ever since.. Well, That wouldn't be completely true.. I do have a home.. an abandoned shack in the woods.. I was around 4 when my parents found out... c-c-CRAW! I-i.. I have difficulties communicating with.. people.. I was raised by crows from when i was a kid.. They brought me there, saw me as their own.. must've been the whole reaper thing.. kekeke..
Appearance:
Device: Ear ring.
Primary ability; An Ear ring that gives him a boost in all senses. ( smell, hearing, seeing, etc)
Crow ability: Black feathers. Ekita can grow black feathers out of his body either giving him small a small resistance to blunt attacks or form black wings to fly for a short distance.
Black arrows. Ekita shoots sharp feathers out of his body. (pretty straight forward)
Reaper ability: Crow familliar. Ekita summons crows around him, giving him an intimidating pressence and airborne backup. The crows can do things such as: Blind the enemy, Bite and scratch them, or protect Ekita from projectiles. Ekita has 5 crows. 4 normal ones. 1 for each arm and leg. Say the Left arm raven dies, Ekita's Left arm gets damaged severely.
Crow Rush. Ekita surrounds himself in crows, blinking to his desired destonation. ((short ranged teleport. Around 10m max))
((Other attacks will be used during the rp as i get ideas, however nothing too op))
Personality: Shy, has a hard time speaking to anyone but his crows. May seem depressed at times, but always happy.
Extra: Likes the squeeze noise dog toys makes. uses a normal iron rod to fight. ((surrounds it in crow feathers))
((blitz has something to do with Ein backstory))
Last edited by Fanod on Wed May 11, 2016 5:12 pm; edited 2 times in total



Posts

: 374


Join date

: 2016-04-24

Character sheet


HP

:


(1000/1000)



Name: Koromaru
Age: Around 2 years old
Gender: Male
Race: Artificial Reaper / Dog
Occupation: Dog
Alias: Dog, Koro
Appearance:
Device:
((The device is being activated, It is Koromaru's "collar" and powered by the two blue round crystals on each side))
Primary Ability: "Transformation" = Koromaru releases the power of a reaper within his device, which gives him two stages of "Transformation"
The First form:
Koromaru gets a major boost in speed and power, making his movements both faster and more powerful, he only grows to the size of a full grown Labrador whilst a bit longer
Second form:
This one, is something you'd call an "ultimate form" however, It is extremely dangerous. Koromaru transforms from his first stage into a full-on-reaper (Around E - D and if extremely angered, a C rank type reaper) and loses all control over himself. All he knows is KILL and not leave anything breathing. He will go Ape-shit on anyone he sees, Teammates, Reapers, heck even just a random butterfly wont be spared by this monstrosity. When his power runs out, He will quickly return to his usual form and drop unconscious on the ground in a type of "coma". He will either wake up after around a week to a month, or die whilst in the coma. Koromaru is fully aware of the consequences of this form and will refuse to use it at all costs, and will only use it to sacrifice himself for his team.
Reaper Ability:
Personality: Koromaru is a very happy and nice dog, he loves pretty much anything that doesn't hurt him. He is very brave an reliable, always ready to protect the ones he cares for
Extra: Koromaru's "Jacket" was made to cover up a huge wound on his stomach. He got this wound once whilst being experimented on and it going horribly wrong. The wound shouldn't open by simple hits, but an un-describeable pain comes if it is damaged, even just petting it directly will hurt a bit



Posts

: 794


Join date

: 2015-12-27

Character sheet


HP

:


(725/725)



Name: Thormod Trebuchet (I'm having way to much fun with these fonts~)
Age: 25
Gender: Male
Race: Reaper Child
Occupation: Member of Reaper Stampede
Alias: The Gentle Giant and Tracker
Backstory:
Appearance:
Device:
Cello Weapon of Pain
This is a giant Cello that Thormod swings around, it's strings are made of thin, thin, reaper crystals and it's said that the melody from these strings strengthens ones spirit.
Primary Ability:
Spirit Serenade:
This ability is support only, Thormod uses his Cello's "magic" properties to boost others. These boost can vary from Defensive boost to Offensive Boost.
-Defense Up
-Attack Up
-Dexterity
-Lightweight
-Regeneration
Secret Ability:
Silent Symphony:
This ability isn't used at all, as it's not something any one would like to deal with. If Thormod uses this "attack" he will be able to revive one person from "death" but it will greatly shorten his lifetime and the both Thormod and the Revived will forever be mute, and turned into a vegetable. This is a shitty ability that was only an add on for his device.
Reaper Ability:
Growth:
This ability is pretty self-explanatory, Thormod will grow... a lot. All of his growth hormones will all do their thing, while some reaper stuff multiply the hormones effect by a whole lot. When this happens he can become much larger in just certain areas. (Like the D, hon non non non~) or just grow an extra meter. So it's steroids pretty much. However this is very painful, because this growth happens almost instantaneously. (Have you ever had a pain in your leg because you're "getting taller". Well picture that pain just that you're growing in a blink of an eye, so yeah very painful...)
Personality: Thormod is a calm, gentle soul that rarely wants to hurt anyone. RARELY. And he never wants to kill someone- ish. If someone hurts his allies (especially Lily) he will let his buddy and brother from another mother Rosso and let him do the killing for Thormod. And if he's the one that has been hurt, Thormod will just plain out smack you with his cello. With a big old smile on his face~ But other than that, he'll be a big ol' teddy bear of friendliness!~
Extra: Thormod is 2.5 meters tall, and he will never stop growing unless he injects a poison into his system which halts growth.
Giggles when he's beating someone up to a bloody pulp with his cello.
Heavy Drinker
especially when it comes to vodka, he'd probably drink vodka for breakfast
Last edited by Winter_Lotus on Thu May 12, 2016 3:43 pm; edited 2 times in total
Name: Silver Baskerville (I'm a true genius when it comes to names~)
Age: 21
Gender: Male
Race: Artificial Reaper
Occupation: Member of Reaper Stampede
Alias: Daredevil, Hunter
Backstory: WIP
Appearance: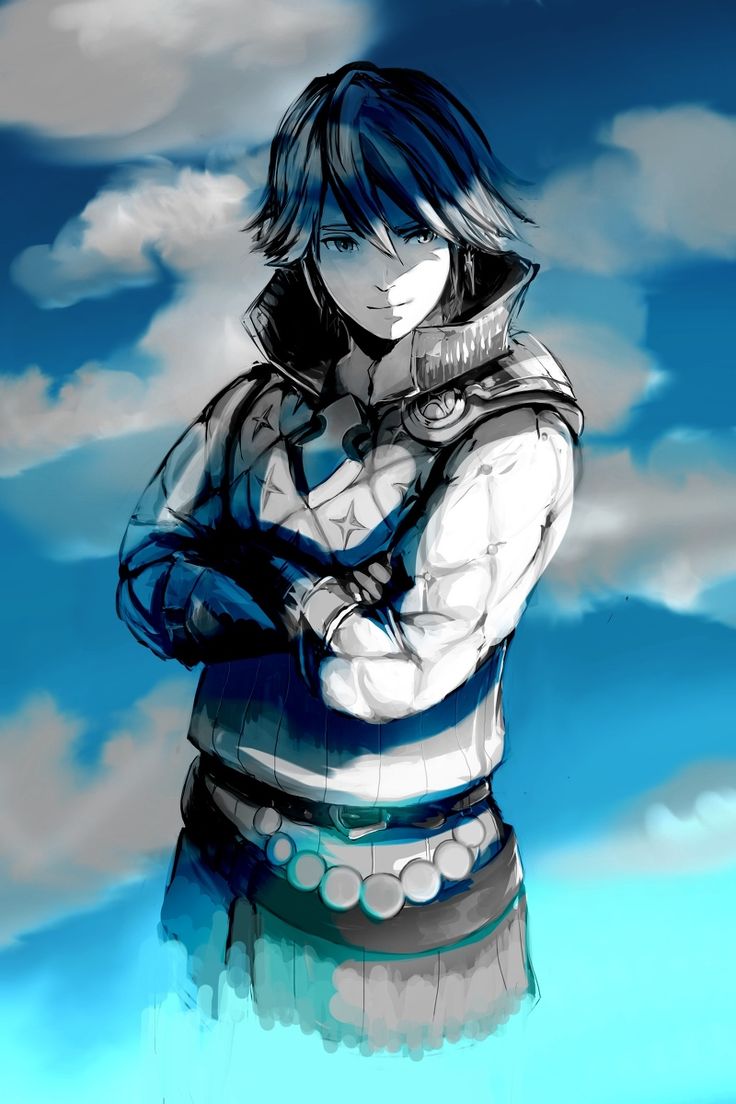 Device: Mist Bringer (
Ohhh Miiiist~
)
This is a Sword and shield given to Silver by his father, it's said to have been made of an S class Reaper, whether Silver believes that or not, he's not quite sure of.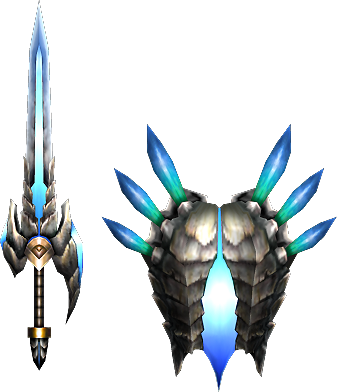 Primary Ability:
Snake Bite
Snake Bite is a type of venom that the weapon generates inside itself. Once Silver stabs this into it's victim the venom will quickly spread and kill it's victim. Though this is only for humans. With Reapers it just makes them drugged. Making their movements slow and predictable. Silver usually uses this ability when he goes around riding them reapers. Yeehaaaw! (Like Rodeo man.. because Silver is just like that.) However if Silver would be cut by this blade, he would meet the same fate as all the other hoomans. Death.
Secret Ability:
Ultimate Defense:
Even though Silver's shield is pretty small and pathetic, using Ultimate defense will make this super strong. The shield will become stronger than diamond and will be able to block any attack, no matter what. However this ability only works for a certain amount of hits. So the more hits, the weaker the shield gets. After 7 hits It'll be back to it's normal self, but even more pathetic as even a punch could now break this usually sturdy shield.
Reaper Ability: WIP
Personality: Silver is a fun-loving, thrill-seeking adventurer! He has no fear of Reapers after pretty much living in reaper territory all his life. He's energetic and will easily become restless. However if it's a life or death he will be cool, calm and collected. Giving this guy coffee is a death-sentence. He puts family and loved ones over anything else, which can sometimes be a bad thing as he can just easily leave someone to die even if both parts could be saved. He's a criminal who often rob people blind, and he has committed several murders outside the walls and has long been known as a gang killer... This might be because of Thormod's lack of will to kill and that Thormod makes Silver do the killing, Silver just goes a little bit overboard... He also is a big flirt, and will usually flirt with girls he's about to rob.
Extra: Coffee is his drug, if he gets coffee he won't stop drinking it. And if you forcefully take away his coffee (this is after he has already drank some) he'll get rather mad and he becomes a rapist, after the high of losing coffee is over he'll become depressed. If you take away his coffee before he starts drinking he'll complain a lot. So just don't give him the chance to get some coffee.
((WIP- like that wasn't obvious enough))
Last edited by Winter_Lotus on Sat May 14, 2016 4:01 pm; edited 8 times in total
Name: Lily
Age: 5
Gender: Female
Race: Reaper Child
Occupation: Member of Reaper Stampede-ish (Because Kid)
Alias: n/a- a tiny little girl don't need no Alias, though she has the nickname of Princess.
Backstory: WIP
Appearance: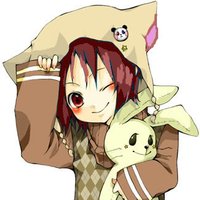 Device: A MAGICAL SHTICK!!! Actually just a stick, because little girl.
Primary Ability: N/A
Secret Ability: N/A
Reaper Ability:
Distress Call:
If Lily ever cries or screams or any thing that shows she's in distress she'll summon a wild reaper that is not already aggravated with Lily. This reaper will fight the threat and once that's finished it will most likely attack any thing around it. So it's pretty much a beacon for reapers and not a safe thing to use.
Personality: Lily like most other kids is positive, and like most other girls, she wants to be a pretty, pretty princess. But she isn't all positive and will often cry, and scream if she doesn't get what she wants. But she's a brave kid who can handle the most. She also has this thing were she believes that she's the boss of Reaper Stampede and that it's her role to lead the crew to glory.
Extra: The stick she has is supposed to look like a sword, but it doesn't look like a sword at all... She loses the stick all the time and then she just finds a new one.
((WIP- like that wasn't obvious enough))
Name: Alice
Age: 19
Race: Reaper Child
Occupation: EX-Assassin
Alias: Wonderland
Backstory: Alice being born in an assassin family, learnt to kill at a young age. Alice being obsessed with 2 things. Crows, and Murder. On her 4th birthday she was gifted a scythe from her father. A little after, Alice captured a Crow as a pet, thats where she got her obsession with them from. Alice's father made Alice Train in scythe wielding for 10 years. On her 14th birthday, she had killed countless people in different assassination jobs. The crow being near it's death bed, having lived for 12 years. The father noticed this and planned a test for his beloved daughter. Alice's father requested Alice to kill her bird. Alice having had it as a pet for 10 years, just couldnt do it. Her father was enraged and killed the bird himself. Alice knowing the difference in skill level accepted it but began plotting revenge. She trained for 5 more years, now having caught up with her father. The words her father spoke right before the scythe cut him in half she never forgot. ''You've grown so strong, revenge is a mighty tool. Arent you glad i killed that stupid bird of yours?''
After that, Alice quit being an Assassin and left to see the world.
Appearance: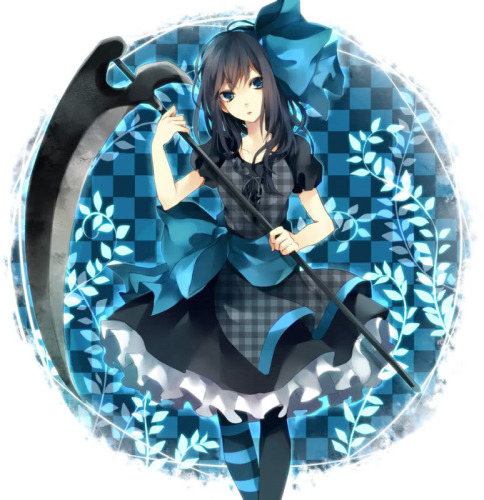 Device: scythe.
Alice is unaware she is a reaper child, furthermore that her weapon is more than an ordinary scythe. The scythe Alice's father gave her was made especially for her reaper ability.  The scythe was made extremely light, barely weighting a kilo making Alice able to swing it around 2-3 times per 2 sec.
Primary ability: The scythe is made of a metal that delays healing, ((makes wounds grow slower)) and increases the amount of blood that comes out. ((bleeds more when hit)) Being able to swing it that fast can make some serious damage!
Assassin ability: having trained in assassination since newborn she has mastered the arts of assassination, Alice has a variety of different assassin techniques she can use. ((Silent walking, knowing human weakspots that kind of thing))
Reaper ability: Alice doesn't know how to use her abilites but they are;
Reaper blink: Alice vanishes into the shadows re apearing at the point she wants. ((max 10 M))
Void phase: Alice turns into an illusion of herself, becoming a floating fog that cant be touched for 20 sec.
How Void Phase looks:
Personality: Varies from time to time.



Posts

: 374


Join date

: 2016-04-24

Character sheet


HP

:


(1000/1000)



Name: Zero Blackwing
Age: 17
Gender: Male
Race: Reaper Child
Occupation: Outlaw
Alias:
Appearance:
Device:
Primary Ability: Whilst the Kellam effect is active, Zero can concentrate on his shot and eventually see a tiny blue light from his arrow to wherever he is pointing, showing an accurate mark where the arrow would land.
Secret Ability: Similar to Aiden's ability, Zero's senses greatly improve for a limited amount of time, with his Hearing, and Sight improved Immensely.
Reaper Ability:  The Kellam effect (Or just Hidden presence if that fits ye more~) = Whenever Zero stays completely still and silent, he becomes undetectable, Although moving will make it easy as any other human to be detected. This ability is extremely useful for when Zero is out huntin~
Personality: Zero has a very Jokeish and Perverted personality, with a veeeery lewd mind, He is also a bit hot-headed if one touches a subject he does not enjoy talking of and is also sadistic~ ((Wooblee~~~)) He is very loyal to his comrades and Is an excellent bowman and hunter with an almost 100% perfect shot
Extra:



Posts

: 794


Join date

: 2015-12-27

Character sheet


HP

:


(725/725)



Page 2 of 2 •

1, 2


Similar topics
---
Permissions in this forum:
You
cannot
reply to topics in this forum